Falcon-i is Pakistan's leading IoT company providing fleet management solutions, telematics, and location-based Services. Falcon-i has launched Pakistan's first bilingual tracking application, which is an exciting addition to its family of innovations and will take the user experience and accessibility to the next level.
The Urdu Language has a strong and vital connection to the history, culture, heritage, traditions, and customs of the society thereby defining our national identity and fostering the feeling of group identity and solidarity. The bilingual application is a pioneering development in the tracking industry and will enable users to access all the offered services in Urdu at their fingertips to serve a varied and diversified customer base.
The Falcon-i Urdu application has a user-friendly and easy-to-navigate interface and will ensure convenience and utility to a greater audience. It allows customers to have an insight into different reports related to vehicle tracking, and push notifications for car maintenance periodically. The application offers complete control to the user from monitoring the vehicle's live location to managing its and battery tamper alerts.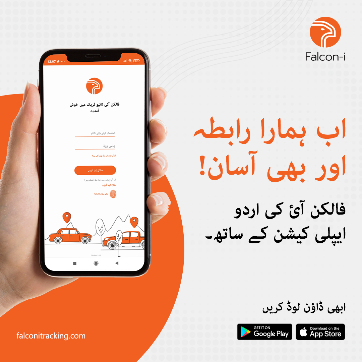 Biometric Authentication launched on Falcon-i mobile application
Now, no more fumbling for your phone or hunting for your username and password. Falcon-i has enabled the industry's first biometric authentication to login into the Falcon-i user application. The Biometric technology will use your face or fingerprint, depending on the device on Android or iPhone handsets to unlock your Falcon-i application, all you will need is yourself.
"Depending upon our audience and business location, language can act as a catalyst or a barrier. By creating a multilingual application, we can ensure maximum coverage and reduce any demographic barriers that may arise due to language difficulties. Serving content in the language preferred by our customers can have a huge impact on our customers and our brand image" Ahmed Faraz VP – Technology & Innovation
Stay tuned with Falcon-i as we are working on new user-friendly, exciting, and innovative features. So, put on your seat belts, shift into gear, and get ready to embark on a smooth tracking journey!
Falcon-i is one of the few tracking companies which maintains all the key functions in-house including customer support, technicians, and a dedicated technology team. This has allowed the company to provide customisable solutions to their corporate customers, providing them with a mix and match of products and services to suit individual companies' needs with a focus on information security and performance.
The vehicle tracking solutions provided by Falcon-i utilize superior European technology for seamless tracking. Falcon-i is the country's largest privately-owned fleet management company, monitoring assets of over 2 billion US dollars. It has built trust amongst more than190,000 customers and empowered over 300+ corporate enterprises by providing insights on driver behaviour, fleet performance, vehicle usage and diagnostics.